So the other day we were getting ready to go watch Simon sing for his honors chorus at the school. Felicity, in a flurry of activity, tried on all her "pretty dresses" and none of them fit except the
vintage party dress
I made before I started blogging. And it was snug enough that this was its last wear. Felicity turned to me and said "You need to make me a new party dress! None of these fit!". After a stern lecture about how making demands was rude and its much more polite to ASK, I promised one by Easter. Inwardly I was smiling because it didn't even occur to her that we would buy one. Even after several shopping trips in which we saw numerous displays of dresses she didn't like any of them.
So last week I sat down with her and drug out patterns and fabric and we went through all the options. The 50's patterns got a luke warm response. Then I brought out this one: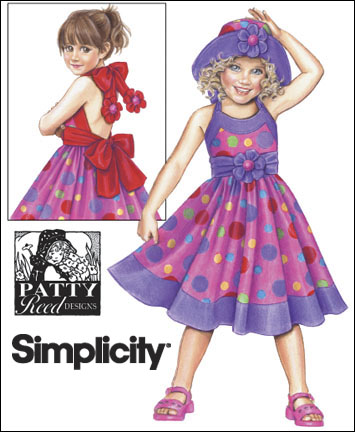 Simplicity 2912
It was a hit. And I can see why, too.I love Patty Reed's designs for girls as they always have his wonderful retro element and are just FUN. This one might be discontinued but I've seen it floating around on the interwebs. So, with the pattern settled we started on fabric. I pulled out some that I had bought with her in mind. Pink gingham with floral, another floral, a polkadot. At first she wanted to mix two floral prints that even Oona might have flinched at. Then I remembered some fabric that I had bought but then couldn't quite see it as "me". I pulled it out and showed it to Felicity and she said "YES! I think red and blue should go together!".
"I quite agree", I replied.
So we now have this, though I used a darker red for contrast:
YAY! Its a start. I got the pieces out and used my new and shiny 36x24 wax paper for tracing onto the fabric, using a straight size seven. The blue/grey floral print is a cotton lawn I got from
Fashion Fabrics
a long while ago for $3 a yard. I have another version in black/pink colorway. Anyway, by itself it was too flimsy so I underlined it in white batiste. I used the "cheat" method that
Gertie
learned from one of her couture classes, I used fabric glue. Hey, its a kids garment. I'm not spending THAT much time on hand basting, thankyouverymuch.
Gluing the underlining
I have to say, this dress super easy after you've racked up some experience points. Lots of pressing involved but it gives you such a clean finish. The red contrasts are actually sewn right side facing wrong side, folded over and then the raw edge is pressed under and top stitched. Clever, really. The ties are just basically folded edges twice and, again, top stitched.
So much pressing.
I did a Hong Kong finish on the seams that were left exposed.
I'd say the fussiest part of the whole thing was making the flowers. The super curved seams, plus clipping, and then the gathering and hand sewing after turning them out and pressing.
Flower template and shiny new scissors
Oh, by the way, those are my shiny new scissors I bought at the Atlanta Sewing Expo. They are micro serrated and titanium plated. Cuts like BUTTAH. Love em'. The end product turned out beautifully. I had three yellow vintage buttons that worked perfect as the center of the flowers. All told I put it together in about 8 hours. I am SUPER pleased, really.
So. That was a REALLY long post and I hope you made it this far! I highly recommend this pattern if you can get your hands on it. What about ya'll? Making anything fun?